Orlando Leon
Vice President for Information Technology and CIO
Greetings!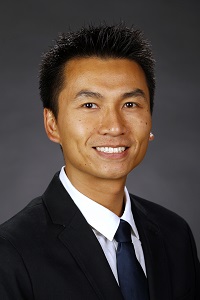 I am honored to serve as Fresno State's inaugural Vice President for Information Technology and Chief Information Officer. My job is to wake up everyday and consider how technology can make Fresno State a better place for our students, faculty, staff, and community. With technology becoming more and more integrated and integral in our everyday lives, we need to consider everything around us through the lens of potential change and innovation and then identify what makes most sense for an academic, higher education environment.
Innovation is essential for all segments of industry, especially higher education, and it comes in all shapes and sizes. Process innovation helps us do things in smarter ways. Technology innovation helps us see glimpses of how things might be in the future.
Will you join me in this adventure? Please feel free to reach out to me to discuss how we can partner together to support the success of our students and the future of our Central Valley.
Please feel free to read my 2020 annual reflection letter to better understand how our technology teams are supporting students, faculty and staff.
Sincerely,

Orlando Leon
Orlando Leon serves as the Vice President for Information Technology and Chief Information Officer overseeing all things relating to technology at Fresno State. As a member of President Jiménez-Sandoval's Cabinet, he oversees the Technology Services Division, comprised of the following areas:


Enterprise Applications and Information Systems
Systems Administration
Network and Telecom
Classroom and Video Services
Field Operations
IT Liaisons
Desktop Services
Service Desk
Project Management Office
Innovation Team
Information Security Office

Born and raised in San Francisco, California, he attended public schools until he went off to college, receiving the opportunity to attend the Massachusetts Institute of Technology (MIT). There, he received Bachelor's degrees in Electrical Engineering and Computer Science and Management Science followed by a Master's degree in Computer Science and Engineering. His research and thesis focused on the areas of technology innovation and pervasive computing.

After graduating from college, Orlando spent 4 years working as a software programmer and product manager at Oracle. His next 15 years were spent working in various technology leadership roles within higher education, first at University of California in San Francisco, Stanford University, and now Fresno State. Orlando joined forces with Fresno State in 2015, bringing with him over 20 years of experience in the information technology field.

Orlando considers it a privilege and honor to work directly with students; helping raise the next generation of leaders through technology, digital literacy, mentoring, coaching, and sharing life.

Orlando and his wife, Rebecca have a 10-year-old, life-loving boy. He enjoys photography, volleyball, nature, cars, all things electronics, and deep conversations about life.
Yelp
TripAdvisor
Gmail/GoogleCalendar
Duo Mobile
Home Automation (Arlo, Ring, Ecobee, EnergyVue, Wemo, Chamberlain, Rachio, Simplisafe, Logi)
VPN
Google Maps
GasBuddy
Wallet
MobileDay
TurboScan